Website Copywriter – SEO & Web Content Writing Samples
Web site copywriting, SEO copywriting, and online content development services I provide include helping you plan your website content, promote your content, copywriting, editing, and proofreading of your web designer's work. (If you're also interested in optimizing your web site for better search performance (SEO) get in touch with SEO Advantage.)
Enjoy below a few of my samples of web copywriting for clients across different industries.
SaaS content agency website
A former client who wanted to start his own content agency asked me to help him get started. I wrote the first iteration of the agency website, a basic one-page site to launch. Now we're working on the second, more polished version. See our progress on the SaaSpirin website.
EdTech company website
In my time as MarComm Manager at Gleim, a provider of exam study software for aspiring accountants, I was responsible for copy for the company's website. One major component of our SEO project was to consolidate the company's disparate information into organized, informative articles in a resource center. I planned and wrote the resource center home page, which can be found here: CPA Exam Resource Center, as well as edited the pages linked from it.
Technology startup dev agency website
This forward-thinking agency based in Belgium is helping startups change the world. I assisted with thought leadership ghost-writing for the blog, case studies and several key pages on the website. I also contributed to content marketing efforts and outreach as well as social media. See this example: About the agency
Ecommerce website
Web copywriting for international scooter manufacturer
Scooters are a great way to get around without killing the planet so quickly, and I just love anything that makes an eco-friendly lifestyle easier. Enter Peace Scooters, a Chinese manufacturer of high-quality scooters (really!) sold at a very reasonable price. This company has personality galore, and I am delighted every chance I have to contribute to its online presence. Sample category page (including brief product descriptions)>>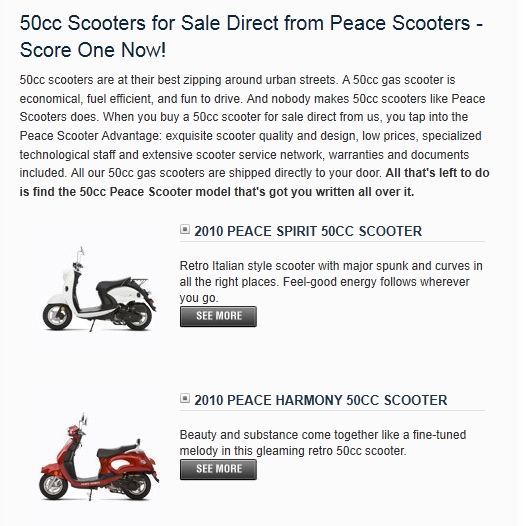 Web copywriting for online computer bag retailer
With ebags.com as a competitor, CoolComputerBags.com needed some real oomph to help its site rank high for important keyword terms. I worked with the staff and its SEO company to create category page copy as well as press releases and other website copy/articles.

Top consumer brand website
I provided ongoing website copywriting services for one of America's most recognized brands, Mr. Coffee®. My goals were to provide ideas and copy to build interaction with customers and encourage promotions and sweepstakes participation. During that time, I wrote regularly updated content for the site's Coffee Tips, Coffee Trends, Tea for Health, Special Occasions, and I reviewed changes made on the site. Mr. Coffee® – Tea for Health (View as PDF)

School administration software website
In my role with SEO Advantage, I have had the opportunity to work with many clients who dominate their industry online. Blackbaud is the leading global provider of fundraising, financial management, business intelligence and school administration software and related services for nonprofits, serving approximately 13,000 organizations worldwide. I supported their success with B2B landing page copywriting – see some a sample here:
Strategic Enrollment Management landing page and corresponding whitepaper (view as PDF)
 
Legal resource website
I managed website strategy, development, and copywriting for legal website Enjuris.com for two years. During that time, I took the site from a simple directory of lawyers to a branded resource producing authoritative, engaging content for accident victims. I wrote all the website pages and oversaw a team of writers who produced the blog posts and articles. This page about car accidents is an example of one that I wrote myself.

Real estate service website
Already a competitive industry online, the real estate market now has a new method of reaching home buyers. MouseHouseTours offers online virtual home tours to help real estate agents and FSBOs sell homes, achieving top search engine visibility for each featured home, thanks to SEO Advantage. The copy needed to address the unique concerns of three distinct audiences and convince surfers to sign up for a virtual home tour or sponsorship package online. View SEO copywriting for the real estate market >>